Below is an excerpt from an article written by Kathleen Miles in Huffington Post L.A. about Emanuel Pleitez on important issues like jobs, education, and transportation. Pleitez also responds to hot topics such as marijuana, condoms in pornography, sports stadiums, and Walmart that were posed to other mayoral candidates by the Huffington Post, including Eric Garcetti, City Councilman and Wendy Greuel, City Controller.
"Emanuel Pleitez, the last candidate to join LA's 2013 mayoral race, is a newcomer to politics but a native of LA.
Pleitez, only 30, was a personal assistant to Antonio Villaraigosa from 2003 to 2005, when the now mayor was a councilman. He worked for three years with investment bank Goldman Sachs and is currently the Chief Strategy Officer for data firm Spokeo. He is a former appointee to the Obama-Biden Presidential Transition team and has worked for the U.S. Department of Treasury and the consulting firm McKinsey & Co.
Pleitez told HuffPost that his priorities are improving schools, attracting jobs and solving the city's budget woes partially by reforming pensions. The son of Mexican and Salvadoran immigrants, he grew up and still lives in East LA's El Sereno.
What are his stances on other issues? HuffPost asked him the same questions that we asked the other mayoral candidates, Eric Garcetti, Wendy Greuel, Jan Perry and Kevin James."
Emanuel Pleitez on Condoms In Pornography
Emanuel Pleitez on the NFL, Dodgers Stadium
Emanuel Pleitez on Latinos in Los Angeles
Emanuel Pleitez on Transportation
Emanuel Pleitez on Homelessness
Emanuel Pleitez on the Environment
Emanuel Pleitez on Privatization
Emanuel Pleitez on Film and Television
Emanuel Pleitez on his Top Priorities as Mayor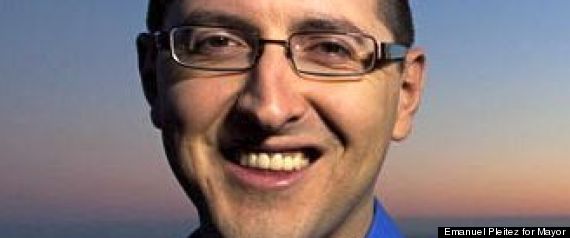 Read the original article as published on February 01, 2013 at www.huffingtonpost.com/2013/02/01/emanuel-pleitez-la-mayor-candidate-2013_n_2577857.html#slide=2046213.