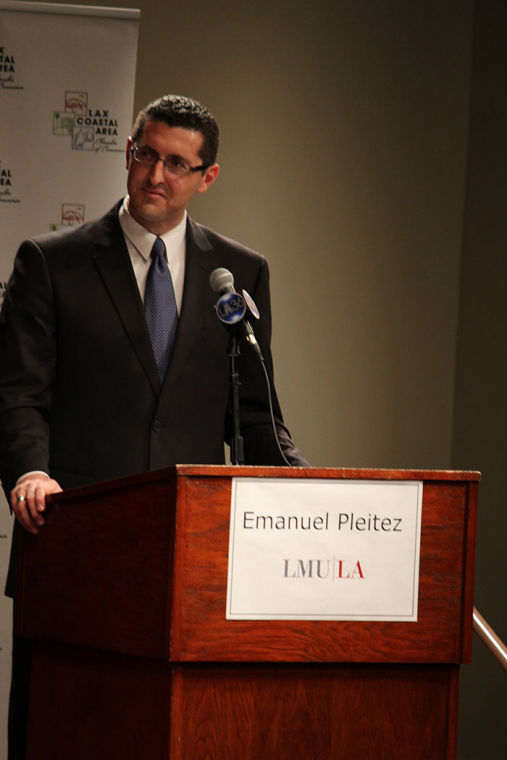 Below is an excerpt from an article written by Pamela Rios about Emanuel's participation at the Loyola Marymount University Mayoral Debate. The article was published in the Los Angeles Loyolan on February 7, 2013. 
"The Los Angeles mayoral race took center stage on the Loyola Marymount campus last Tuesday night, Feb. 5, as the five candidates vying for the mayor's seat assembled for a debate before an audience comprised of students, faculty members and campaign organizers. The candidates include City Councilmembers Eric Garcetti and Jan Perry, City Controller Wendy Greuel, former U.S. Attorney and radio host Kevin James and former technology company executive Emanuel Pleitez.
The debate followed a simple format of questions and answers, led by moderator Dr. Fernando J. Guerra, an LMU professor and director of the Center for the Study of Los Angeles at LMU. Questions were asked by select students, who each brought to the forefront editorial issues facing the city today, ranging from the topics of immigration to gun control.
Each of the candidates used their responses as an opportunity to display and expand upon their vision for the future of Los Angeles. In an effort to keep within the debate's civil guidelines, some of the candidates found themselves playing off of each other, either building on the other's reply or turning it completely on its head to show their own take on an issue. 
Pleitez shared his vision of police reform, saying that the antagonized perception of the police force by the community has to change before the force itself changed.
Although directly addressed in only one question, the issue of job scarcity in L.A. was frequently brought up by all candidates in their responses and analogized as a common point of reference in the call for reform.
As the debate neared its end, a student asked the question that would serve as their closing address to the crowd. When questioned as to what Los Angeles would look like after the completion of each of their respective two terms, all restated their assurances that it would be a cleaner, safer and more pleasant place to live.
However, the candidates also reminded the audience of the arduous journey and solid compromise necessary to get to that point, a point of functioning under the ideal city governance and that would, as Pleitez put it, 'make [Los Angeles] the envy of all the country.'"
Read the original article at http://www.laloyolan.com/news/mayoral-debate-engages-students/article_eccf103e-70e6-11e2-b5ee-0019bb30f31a.html.